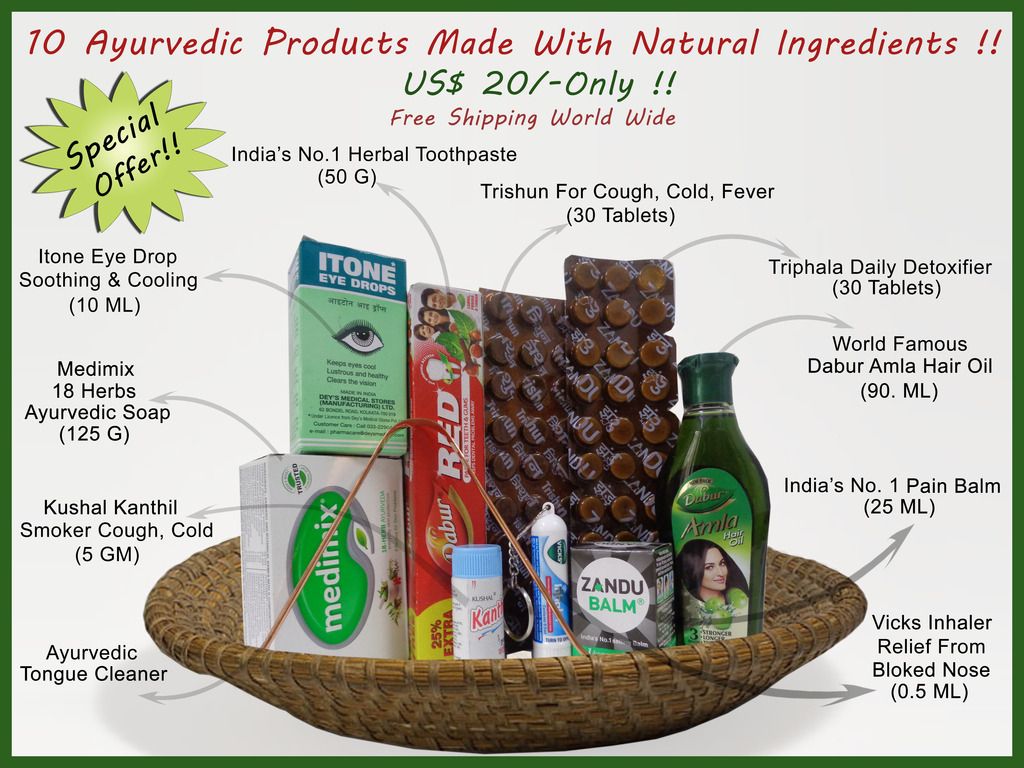 Indication :
Useful in Cooling and Laxative
Composition :
(Each tablet 325mg contains)
Benefits :
Specially Beneficial in Eye diseases
Triphala combines nutritional as well as cleansing actions. It is an effective laxative which also supports body's strength.
Triphala uniquely cleanses and detoxifies at the deepest organic levels without depleting the body's reserves.
Triphala combines Terminalia belerica Roxb, Terminalia chebula Retz, Phyllanthus emblica Linn.
Terminalia belerica. The constant use of the plant keeps a person healthy and free from disease. Charaka Samhita mentions it as anti-pyretic and mild laxative. It is a rejuvenating herb, which prevents ageing, imparts longevity, immunity, enhance body resistance against diseases and improves mental faculty. Dried ripe fruit is astringent. It is used in fever, applied to eyes and is useful in sore throat and bronchitis. Terminalia belerica cleanses and detoxifies diseases of liver and gastrointestinal tract.
Terminalia chebula :
Popularly referred as "Haritaki" in Ayurvedic text books, Haritaki is a legendary drug. The plant is used extensively in the preparation of many Ayurvedic formulations for infectious diseases. It treats simple constipation; by increasing the frequency of stools and evacuating the bowel completely. Haritaki is a rasayan which has beneficial effects on all the tissues.
Dosage :
3 to 6 Tablets to be taken with milk or water either in the morning or at bed time.
---
Zandu Trishun Tablets
Indications:
Compositions:
Each tablets is prepared from
Sudharshana churna, 600 mg
Dosages:
One tablet twice a day with warm water, tea and coffee
Caution:
To be taken under medical supervision.
Dabur Red Toothpaste is packed with the power of 13 active Ayurvedic ingredients like Laung Pudina & Tomar, that keep all your dental problems away. It is the first-ever toothpaste which keeps all your dental problems away, therebyproviding you strong teeth.
Indication:
Useful for Bleeding gums, toothache, reduction in germs
Compositions:
Each 100g paste is derived from:
Herbal extract 2.5% w/w derived from:
Maricha (Piper nigrum) - 31.04g
Pippali (Piper longum) - 31.04g
Sunthi (Zingiber officinale) - 31.04g
Tejovati/Tomar seeds (Zanthoxylum alatum) - 31.04g
Lavang/Laung oil (Syzygium aromaticum) - 0.50g
Karpoora (Cinnamomum camphora) - 0.50g
Pudina (Mentha piperita) oil - 0.50g
Sweetner (Sodium saccharin)
Preservatives ( Methyl paraben, Propyl paraben, Sodium benzoate)
Direction for use:
2-3g (Full length brush amount) twice daily or as directed by Dentist or Physician.
---
Itone Ayurvedic Eye Drops
An Ayurvedic Preparation, free from harmful chemicals. It is a powerful antiseptic and non irritant lotion without any harmful effect to the eye tissues.
An ayurvedic proprietory medicines for For External use only.
Use the solution within one month after opening the container.
Composition:
Aqueous Distillate of (in mg)
Direction for use :
1 or 2 drops to be applied in both eyes at bed time and after rising in teh morning or according to physician's discretion.
Warning:
1. If irritation persists or increases, discontinue the use and consult physicial.
2. Do not touch the dropper tip or other dispensing tip to any surface since this may contaminate solutions.
---
Kushal Kanthil Ayurvedic Medicine
Indications:
Effective for cough, cold, sorethroat, nausea, smoker's cough & freshens mouth.
Composition:
Dosage:
One or Two pills to be sucked 6 to 7 times in a day.
Description:
Zandu Balm is No.1 Ayurvedic remedy for headache, body ache and cold. It is 100% safe and no side effects. It has been trusted household solution for pain relief since 1935. Across India, Zandu Balm is synonymous for headache, body ache and cold remedy.
Composition:
Dosage:
Apply on affected parts and gently massage.
---
Dabur Amla Hair Oil is India's trusted hair oil. Packed with the natural goodness of Amla (Indian gooseberry), Dabur Amla Hair Oil enriches your hair, making them strong from inside and beautiful outside to keep you looking absolutely gorgeous all day long.
Dabur Amla Hair Oil is today the largest hair oil brand in the country with over 35 million consumers. Dabur Amla Hair Oil has constantly evolved as the epitome of beauty for Indian women.
Vegetable oil including Amla extract - 58%
Direction for use:
Massage your scalp with Dabur Amla Hair Oil. Leave overnight for best results. Shampoo next morning to get healthy, lustrous hair.
---
Pure Copper Tongue Cleaner for Oral Hygeine!
Traditional way of Tongue Cleaning.
Provides Quick Relief From Blocked Nose
Direction For Use:
Use as often needed. Inhale medicated vapours through a nostril while holding the other nostril closed. Inhale deeply to make breathing feel clear and cool.
---
18-Herb Ayurveda, Medimix
Indication :
Prickly heat (milliaria rubra)
Composition :
Chitraka (Plumbago Indica) – 59.094 %
Vanardraka (Zingiber zerumbet) – 28.365 %
Sariba (Hemidesmus indicus) – 3.152 %
Madhusnuhi (Smilax china) – 1.577 %
Nimba (Azadirachta indica) – 1.052 %
Vacha (Acorus calamus) – 0.525 %
Usiram ( Vetiveria zizanioides) – 0.525 %
Dharu-Haridra (Berberis aristata) – 0.525 %
Devadaru (Cedrus deodara) – 0.525 %
Jyotismati (Celastrus paniculatus) – 0.525 %
Dhanyaka (Coriandrum sativum) – 0.525 %
Svetajiraka (Cuminum cyminum) – 0.525 %
Vidanga (Embelia ribes) – 0.525 %
Yasti (Glycyrrhiza glabra) – 0.525 %
Indrayava (Holarrhena antidysenterica) – 0.525 %
Upakuncika (Nigella sativa) – 0.525 %
Bakuci (Psoralea corylifolia) – 0.525 %
Guggulu (Commiphora wightii) – 0.46 %